He wanted to be an actor. And with his strikingly handsome features and good looks, this would have been an easy task for Martyn Lawrence Bullard. But he was destined to become an interior designer. Now he designs the houses of the rich and powerful and his high-profile clients include Sir Elton John, Kid Rock, supermodel Cheryl Tiegs, Cher, Eva Mendes, Ellen Pompeo, Edward Norton, Sharon and Ozzy Osbourne and several other such A-listers.
Tamara Mellon's luxurious Penthouse
He is among LA's five most sought-after interior decorators. Interestingly, his own life story would make a very riveting film script.At the age of twelve, Martyn started to buy and sell items like silver spoons, boxes, dishes, pieces of fabrics etc. He would go with his father to Greenwich Antique Market and rent a stall. Then he would run around other shops and buy interesting items with his pocket money and then display them on draped clothes and interesting boxes in his stall to make them look appealing. He even had great stories to tell to the precocious buyers about his wares. And by the age of sixteen he had a following of dealers and collectors who would flock around his stall to source items from him.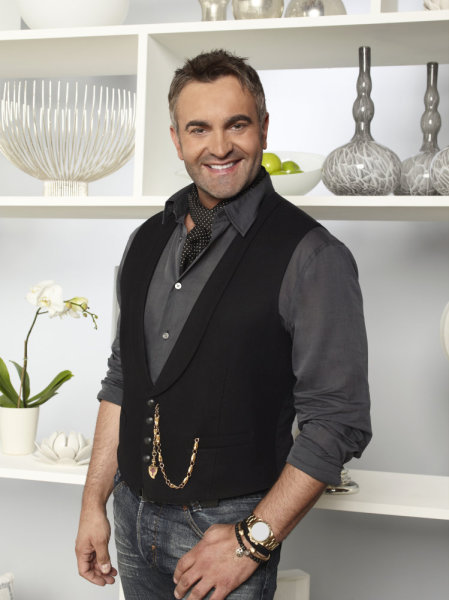 But he constantly nurtured his aspirations to become an actor and finally raised a few thousand dollars by selling antiques, including silver items and gold jewellery to pay his fees at the acting school Strasberg Institute in Los Angeles. He had even acted in a few films. And one such role led his to his real passion when producer liked the flea market treasures displayed at his rented place and asked him to decorate their office. And then there was no looking back...
Billed as one of the top talents in architecture and interior design, Martyn is considered to have a strong sense of proportion and scale, an eye for colour and pattern and an energetic international sensibility with a bent towards Oriental. His appeal lies in its ability to deftly combine elements from different continents and eras to create a sophisticated to eclectic look.
His book "Live, Love and Decorate" has become very popular among decor enthusiasts as it unfolds the private spaces of several celebrities. It has a foreword by Sir Elton John and published by Rizzoli. All pictures by Tim Street-Porter.
Following images via
The space decorated with Martyn's line of fabrics
Potuguese bed and mother-of-pearl inlaid trunk
Ellen Pompeo's master bedroom
Sir Elton John's living room
Sir Elton John's room
Buddhas in the corner, Ganesha on the table
Opulent Inlaid furniture. Don't miss the Buddha and Ganesha statues on the bedside table
A Moroccan table seamlessly mixes with animal printed ottomans
I love the blue and white colour scheme, especially the embroidered cushions
Asian musical instruments on the wall
Cane lamps and Buddha images on cabinet doors
Add caption